For this task, you will listen to a recording and you must select a single response that is accurately suitable to the content of the recording. Unlike the Multiple Choice, Multiple Answer task where there are multiple responses possible, there is only one correct answer in this task. 
To select a response, you must simple click on checkbox next to the response.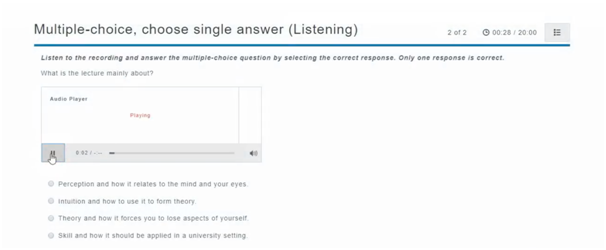 How do you respond to this task?
Skim through the question being asked and the options available to you. The question will tell you exactly what you need to be listening for when the audio starts playing.  In the above example, the question asks "what is the lecture mainly about?" So, you know that you have to look for the main point of the lecture rather than figuring out a specific supporting detail. The question can be specific, such as "what does the professor say needs to be done about overpopulation?" which mean you will have to pay attention to the supporting details. 

If you submit no answer, you will get no points. So, make sure to submit an answer, even if you are unsure if it's correct.
Scoring
Your ability to analyse, understand, and evaluate a short audio or video recording on an academic subject is assessed in the Multiple Choice, Single Answer section.
You will either get a correct score or in incorrect score.
Notes
For PTE Multiple Choice, Single Answer mock tests, practice questions and practice tests online, please visit https://oneaustraliagroup.com/pte-coaching/.
Now get your PTE online Coaching in just 4 easy installments through Afterpay
You can checkout our Unlimited Combo Pricing Packages
For further assistance and training in PTE, you can get in touch with us by contacting us(link to contact us page) or leave a message with your name on WhatsApp on +61466466603, and we will get back to you!