For this task, you will listening to a recording where the last word or few words have been bleeped out. You must select from a list of given options the best response to the recording.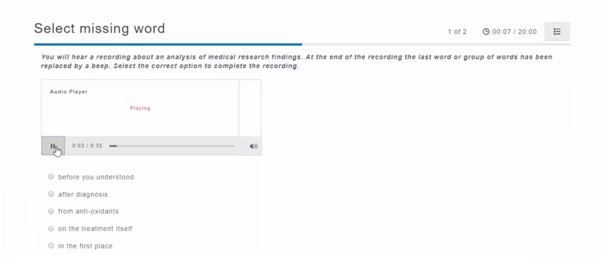 How do you respond to this task?
Use the time that is provided to you just before the recording begins to skim through all various options that are shown to you. Since the recording or the sentence will directly lead you to an answer, pay attention and remember the choices. 

Take notes when you are listening to the recording so that you have something to look at to confirm your answer. 

It is highly recommended that you note down the last part or the last few words of the recording. This way you make sure not to forget the beginning of the sentence that you need to select the ending for. 

Keep in the mind the speech and the grammar being used in the recording. 

The choice you make should be one that easily flows from the last part of the recording and it must not be one that diverges from the original meaning of the spoken text. 

Try saying each option out loud with the ending of the last sentence and see which one fits the best. 
Scoring
Your ability to predict what a speaker will say at the end of sentence based on contextual information in a recording is evaluated in the Select Missing Word task. 
Your response is given a correct or incorrect rating. No credit is provided if you don't respond or if you respond incorrectly.
Notes
For PTE Select Missing Word mock tests, practice questions and practice tests online, please visit https://oneaustraliagroup.com/pte-coaching/. 
Now get your PTE online Coaching in just 4 easy installments through Afterpay
You can checkout our Unlimited Combo Pricing Packages
For further assistance and training in PTE, you can get in touch with us by contacting us(link to contact us page) or leave a message with your name on WhatsApp on +61466466603, and we will get back to you!