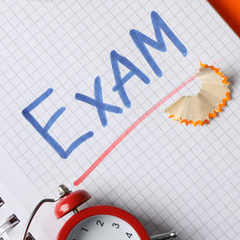 The PTE test is challenging and requires a lot of work to crack. If you are planning to sit for it soon, remember to get plenty of rest before the test and leave the preparing to be done weeks in prior, because this is not a test you can cram for very easily. It is quite a long and draining test, with a 3-hour total duration.
It might seem logical to stay up all night prior to the day of your exam to gather as much knowledge as you can, (haven't we all thought that we were capable of this at some point) but that can actually prove to be counter-productive in most cases. Knowing your material in advance, and getting enough rest prior to the test is the best way to improve your chances of nailing it.
Get familiar with the format of the exam
Before starting the process of studying for any exam, it is very important to understand it's format. Knowing the structure and subsets of the test is key in obtaining the best result possible. One Australia Group has all the required facilities available to provide you with the best understanding of this test and is ready to give you the best PTE coaching that you need.
For PTE, the test is divided into three main sections; Speaking & Writing, Reading, and Listening.
The first part of the test consists of speaking and writing. This part is further divided into:
✅ Personal Introduction
✅ Read Aloud
✅ Repeat Sentence
✅ Describe Image
✅ Re-tell Lecture
✅ Answer Short Question
✅ Summarize Written Text
✅ Essay
This section is given the time frame of 77-93 minutes to complete. For the speaking section, you will be checked on your ability to talk and produce spoken English language. For the writing section, you will be checked on grammar and spelling skills.
The second part of the test is the reading section. This part includes five topics:
✅ Fill in the Blanks
✅ Multiple Choice, Multiple Answer
✅ Re-order Paragraphs
✅ Reading & Writing: Fill in the Blanks
✅ Multiple Choice, Single Answer
You are given 32-40 minutes to complete this section. You will be evaluated based on your ability to read and write information that is being delivered to you. There are some strategies you can use to assure a good score. For example, in the 'Fill in the Blanks' activity, you should read the entire question in order to figure out its context, not just the words near the blank. This will ease your selection of the correct answer from the given choices. Skimming the entire paragraph to get a grasp of the meaning can improve your chances of getting all the blanks correct. One Australia Group has experienced English tutors for the PTE test who are able to give you many more of these tips and strategies to get the score you desire.
The last section of the test is the listening section. This section is divided into eight parts:
✅ Summarise Spoken Text
✅ Multiple Choice: choose multiple answers
✅ Fill the Blanks
✅ Highlight Correct Summary
✅ Multiple Choice: choose single answer
✅ Select Missing Word
✅ Highlight Incorrect Words
✅ Write from Dictation
The time given to complete this section is 45-57 minutes. Since this entire section is to assess your listening ability, it is very important to stay focused and understand as much of the question as possible. The audio or video is only played once, it is important to listen carefully. Taking notes is extremely helpful in this section particularly. Since what you hear isn't always in accordance to the order of the questions, selecting options as you listen is not as effective as taking notes of the entire audio before answering. The options provided to you can be very tricky as they might seem very similar to each other, so it is important to select the option based on its meaning, rather than similarity to the words you heard.
Practise, Practise, and Practise
As is true with anything you want to achieve in life, practise makes perfect. The importance of practise in the context of the PTE exam cannot be understated. With all the free practise sheets, prediction files and techniques available on One Australia Group's website, you will never run out of enough practise material to get you that score you can be proud of. There are also mock tests available which represent the actual PTE very accurately and give you scores that could very well reflect your actual scores. Mock tests can also give you that confidence boost that you need to reach your highest potential, as nerves can sometimes get the best of you if you feel unprepared.
Understanding the format of the test, doing practise worksheets and attempting a few mock tests can assist you in managing your time well, which is of utmost importance when it comes to the PTE exam. With the exam being 3 hours long and only a specific amount of time being given to each section, prioritising tasks becomes a key factor in your success. If after attempting One Australia's mock tests, you are confident that you are able to do the test in the given timeframe, then nothing is stopping you from managing your time well in your real test attempt.
Get Feedback
After completing the numerous practise sheets and mock tests, analyse your results very carefully and identify the areas where you are lacking. The focus should now be on improving these areas to maximise your score. PTE is a computer-based test and the person evaluating you, is actually not a person at all; it's a computer itself. This is not as big of an issue in the listening and reading sections, and all the practise you have done are enough to make you feel prepared for them. However, it is the speaking and reading sections where you might require further help. This is where tutors who have years of experience teaching this material and have scored 90-90-90-90 on the actual test can come in handy. The feedback they can provide on your written and spoken tasks is essential, as these are the areas that prove to be the most difficult when attempting the real test.
At One Australia, we consider our team to be our strongest asset. Our tutors have helped more than 20,000 students get the scores they desired, and continue to do so every day. Not only are they completely competent in what they teach, they are passionate about providing all the support that our client's need. Our feedback is always on a one-to-one basis, and we prioritise your need in order to make sure you get the scores you want.
At the end of the day, giving the PTE test is not a walk in the park. It can prove to be very challenging, but that's what we are here for. We are here to give you the best chance possible to secure a score you can be proud of. Use the tips and techniques above to help practise for your test, and if you still need more help, we are here to provide that for you. Hard work always pays off, and by putting in all this effort, you are sure to understand that by getting your perfect score.
Now get your PTE online Coaching in just 4 easy installments through Afterpay
You can checkout our Unlimited Combo Pricing Packages
Good Luck with your PTE Academic Exam! Don't hesitate to contact us for a FREE PTE trial class. Leave a message with your name on WhatsApp on +61466466603, and we will get back to you!