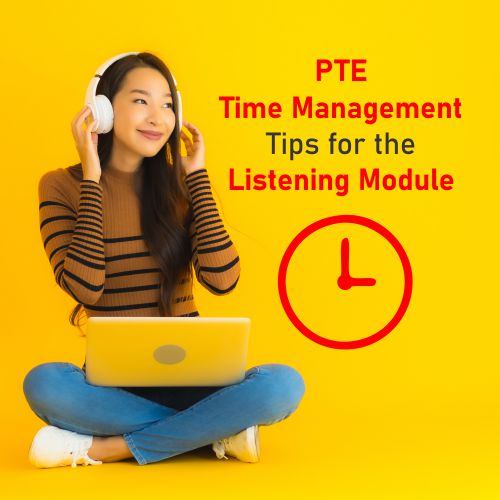 Struggling to get your PTE Scores ?
Wait, have you managed to complete the Listening module on time ???
As you all know, PTE is a computer-based test, and for such examinations, we cannot stress enough the importance of Time Management – especially in the PTE Listening Module. Without managing your time effectively, you cannot even think of getting your target score.
So, hold on, you need to read all the tips and tricks properly to get the higher score NOW!
✅ Prioritize. Before sitting in the real test, you must be aware of what are the critical tasks of the listening module with the highest weight. And then, accordingly, manage your time.
✅ Understand the module sequence carefully. It is highly crucial that you familiarize yourself with the exam pattern before and practice accordingly, and this will help you save time you will spend in figuring out the pattern instead.
✅ Practice using time optimization. It is quite natural that if we practice the approach beforehand, our mind will stick to follow the approach in the exam itself. Hence, we always suggest you optimize your time even in the practice tests. That way, you will end up avoiding all the blunders, which will drag your score down in the real test.
Pro-Tip for Time Management: Segregate all the tasks which have negative marks and time limits. Like, the Highlight Incorrect Word task has one negative point for each wrong response. You must know to select only the correct answers as it is always better to leave the unsure responses to avoid negative marking. On the other hand, the Summarize Written Text task, which is your very first task type in Writing, is set to a 10 min duration. Hence, control your focus for a given time as you are not gaining any marks for finishing that task early. So, take your time, and get all your responses correct on the first go.
Now get your PTE online Coaching in just 4 easy installments through Afterpay
You can checkout our Unlimited Combo Pricing Packages
I hope that our article on PTE TIME MANAGEMENT  will help you manage your time smartly in the real exam. WhatsApp/Call us TODAY on +61466466603 for a FREE PTE trial class from our expert tutor who has 90-90-90-90 in PTE!