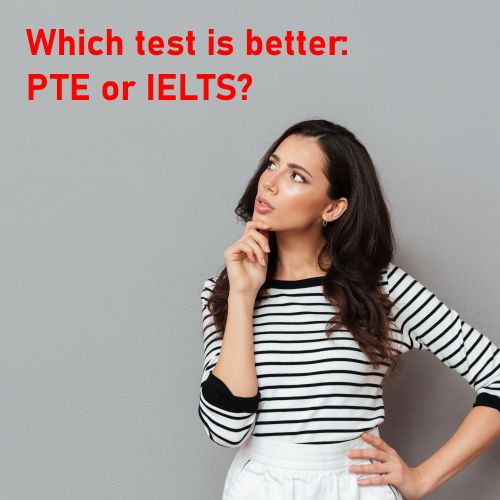 PTE and IELTS are both popular proficiency tests in the English language, and aspirants who plan to study or settle abroad are always in a dilemma to choose one. Both tests are used widely for English proficiency checks in most of the English speaking countries like Australia, New Zealand, and Canada. Hence, in this blog, we will throw some light on major differences in both tests so that you can make the right decision and choose the most appropriate option according to your case.
✅ Speaking and Writing Module differences
PTE and IELTS have the same module types, but the main difference comes in the two modules of both exams. In the PTE, you are required to type on a keyboard, and also, in speaking, a headset with a microphone is used to record the answers. However, IELTS has a manual process for both modules. However, recently, IELTS has also launched its own version of a computer-based test wherein an aspirant can take the Reading, Writing, and Listening modules on a computer, while the Speaking test is face-to-face with a human.
✅ Computer or Human Interaction
Another major difference is that PTE is a computer-based exam, whereas IELTS has a human examiner in the speaking and also your responses are checked by the human examiner itself. Hence, this all depends upon your response. You need to recognize where you feel the most comfortable, and if you have concerns of nervousness or so before the human examiner, then PTE would always be a great option for you.
Lastly, you also need to check with your resources or guidance as both exams require effort and correct guidance. Without the appropriate material, your efforts and valuable time will be wasted, and it's hard to get a higher score in real-time. Hence, once you have figured out which one is the best examination according to your comfort level, then it is the right moment for you to manage your time effectively and use the right approach to get the higher score either in PTE or IELTS.
Now get your PTE & IELTS online Coaching in just 4 easy installments through Afterpay
You can checkout our Unlimited Combo Pricing Packages
I hope our article sheds some light on the differences between IELTS and PTE. To talk with our highly experienced IELTS tutor, who has a score of 9/9/8/8 (Overall 8.5), feel free to give us a call anytime on +61466466603. You're just a phone call away from connecting with the BEST IELTS faculty in Australia!