There is word count on your screen that will help you keep track of how many words you have written. You must write a 200-300 words
You can also use the cut, copy, and paste options to help you create your essay.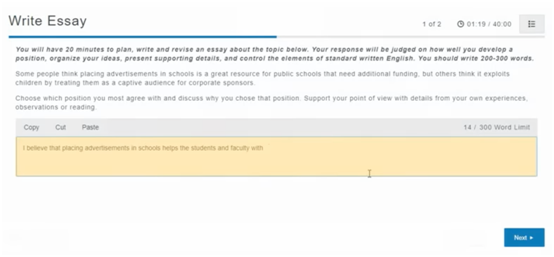 Strategies and test tips
Research the issue and determine what crucial elements you should focus on in order to answer the question, as well as any points of view you want to convey and explore.

Examine the essay prompt to figure out how to respond. Prompts for essays can be written in a variety of ways. For example, in this statement you need to highlight points that you agree or disagree with. 

Do not exceed the 300-word limit for the essay. 

Use academic English to the best of your ability, divide your entire essay into medium sized paragraphs. Bullet points are not a good idea either and do not extend your paragraphs to be too long either.

Avoid using technical

jargon

 and short forms. Make sure your essay has a variety of sentence types including simple sentences, compound sentences and complex sentences. 

Use essay templates available online to practice your writing skills, so you will be prepared for when you actually have to write in the exam. 
Scoring
1.Content: 
The best responses stay on topic, provide logical and clear information. They also back up their claims with specifics, examples, and/or explanations.
2.Development, structure and coherence: 
Having several paragraphs and a clear introduction, body, and conclusion that are all related to the essay's topic will get you the best marks.
3.Form: 
You are given the highest score under form if you follow the 200-300 word limit.

Any response that is fewer than 200 words or greater than 300 words will lead to point deductions. 

Any response that is fewer than 120 words or greater than 380 words will lead to a score of zero. 
4.General linguistic range: 
The greatest response is one that emphasises the most crucial points, communicates perspectives innovatively, and promotes clear communication.
5.Grammar usage and mechanics: 
Your response must include grammatically logical simple, complex, and compound sentences that are relevant to the idea of the essay. 
6.Vocabulary range: 
7.Spelling:
English spellings from the United States, the United Kingdom, Australia, and Canada are recognised by PTE Academic. In a particular response, however, one spelling convention should be utilised consistently.
Note
The Write Essay task has a partial credit system. No credit is granted for no response or a response that is irrelevant. 

Writing, vocabulary and written discourse, grammar, spelling scores are affected by this task

Your listening, reading and speaking skills are not tested by this question type.
For PTE Write Essay mock tests, practice questions and practice tests online, please visit https://oneaustraliagroup.com/pte-coaching/. 
For further assistance and training in PTE, you can get in touch with us by contacting us(link to contact us page) or leave a message with your name on WhatsApp on +61466466603, and we will get back to you!